This is a fantastic opportunity for me to be able to communicate my many thanks to the Aldeburgh Festival and the Britten Pears Orchestra for selecting me to perform with them. This ambitious project brought two live performances of Benjamin Britten's "Peter Grimes" to the iconic Snape Maltings, and a semi-live staged version to the iconic beachfront where much of it is fictionally set. It all took place between May 23rd to June 10th, 2013. The cast included Alan Oke and Giselle Allen in the leading roles, the Opera North chorus and the Britten Pears Orchestra. I will initially outline Benjamin Britten and his opera Peter Grimes, describe my ancestral links to George Crabbe, explain what participating in this program was like and what coloured my stay in Aldeburgh (pronounced: auld-burra), ultimately unveiling a poignant turn of events.
Britten and Pears, Crabbe and Grimes
Just to keep factual information succinct, I will mention only important details. Benjamin Britten was an English composer who lived from 1913 to 1976. Being 2013 this year of the program, it marks Benjamin Britten's centenary of his birth and makes this a particularly honorable tribute to his life. In his youth, Britten studied composition with English composer and violist Frank Bridge. In 1937, he lost his mother, and met his future partner and muse, the tenor Peter Pears. In 1942, whilst living with Pears in California, Britten stumbled upon an article in a magazine about an 18th-century poet, George Crabbe. Britten picked up a copy of Crabbe's poem "The Borough" which contained the tragic story of a fisherman in Aldeburgh.  Instantly recognizing his nostalgia for Suffolk, he knew full and well that he belonged back in Suffolk, and that he must write an opera based on this story. 
Britten returned to Snape in April, 1942, and began writing his opera, "Peter Grimes". The story is about a fisherman who tragically lost his apprentice at sea. At the very beginning, quarreling develops as to whether or not he should be allowed to employ a new apprentice, the community around him splits into two camps – one who believe in his capacity for reformed salvation and the other predicting a high likelihood that this would unnecessarily endanger the life of a new apprentice. The moral ideas behind this work I pondered in my recent enjoyment of Roger Scruton's book The Uses of Pessimism: And the Danger of False Hope, but I digress.
Benjamin Britten completed "Peter Grimes" in 1945, and through this, reestablished public opinion of British opera in the 20th century. By 1967, Benjamin Britten had re-designed the largest building within the decommissioned Snape Maltings complex into a concert hall, with further plans for the surrounding buildings. More general information about Benjamin Britten and the story of Peter Grimes is widely available on the internet, although for a more in-depth look of what his life was like I recommend that you pick up Journeying Boy: The Diaries of the Young Benjamin Britten 1928-1938. There are numerous biographical works out there, and I have not spent enough time delving into any of these other sources to warrant any further recommendations. I believe one stands to achieve a personal view of Britten's character (albeit deflecting academic historians' summaries and biases) by peering directly into his journals and music.
A Partridge and a Crabbe
E.R.W. Partridge (my great-grandfather on my mother's side) was the son of the Reverend Walter Henry Partridge, whose father was the Reverend Walter John Partridge. My family holds an autographed copy of the Reverend George Crabbe junior's book "The Life and Poetical Works of the Rev. George Crabbe", circa 1851. Crabbe Jr. compiled and edited the works of his father, the Reverend George Crabbe.  My great-great-great-grandfather, the Rev Walter John Partridge, was presented this at Christmas 1854, and the handwritten note therein from George Crabbe stipulates the kinship between both clergymen.
Aldeburgh, Suffolk
'There are few points within the confines of this planet at which you can stand and know that you're seeing, hearing and breathing precisely what a composer was trying to capture in a particular piece of music.'
Classic FM magazine on Peter Grimes and Aldeburgh beach
Fresh stormy sea air and temperamental chills – Aldeburgh's weather is a quick-footed beast. It was incredibly lucky we had plenty of sunshine during our stay. Needless to say, this beach was not quite up to par sand-wise with the Queensland and Tassie beaches I'm used to!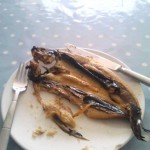 Lip-smacking is the best way to describe the local cuisine, sourced from sea-side fishermen. Pictured here is a traditional low-carbohydrate meal I crafted of these smoked kippers. De-lish! I was thankful to also meet some of the Opera North chorus members in the pub, where they explained that they will be performing Peter Grimes again in September – what a year for them!
Solvitur Ambulando
During my off-time, I took to the countryside footpaths for a bit of Solvitur Ambulando. Here is a passage from "The Exhilirations of the Road" by John Burroughs that kept close in my mind whilst sauntering around the Suffolk countryside:
"Your pedestrian is always cheerful, alert, refreshed, with his heart in his hand and his hand free to all. He looks down upon nobody; he is on the common level. His pores are all open, his circulation is active, his digestion good. His heart is not cold, nor his faculties asleep… The vital, universal currents play through him. He knows the ground is alive; he feels the pulses of the wind, and reads the mute language of things. His sympathies are all aroused; his senses are continually reporting messages to his mind… The walker does not need a large territory. When you get into a railway car you want a continent, the man in his carriage requires a township; but a walker like Thoreau finds as much and more along the shores of Walden pond."
On the bus trip from London, I had been reading (strangely enough somewhere in another, slimmer Roger Scruton book) about how the English had established rural footpaths giving right-of-way which allow for pedestrians to walk between villages over public and private property. After my many adventures around the world, I have to tip my hat to these folks who had the forethought to establish and maintain public thoroughfare of this magnitude. It definitely gave me a chance to actively relax, beat the boundaries and attempt to memorize the many names of the members of the orchestra. Not to mention the fantastic day-expedition with Gabriella Gemesi looking for Geocaches with her GPS in a nearby forest, south of the Snape Maltings.
Snape Maltings
A truly miraculous environment for artists and musicians. Here are some fantastic imagery I was able to capture. For more information about the Maltings, see here.
In a cinema near you
The screening has begun! As of September 5th, Grimes on the Beach has begun appearing in over seventy UK cinemas. I wish I was there to see it on the big screen, maybe one day I will have the chance!
As I finish editing this article, I realize there are a couple of things that, in hindsight, I should have acted upon. I wish that I had taken photographs of the hall and the orchestra and asked to interview orchestra members, the administration and the chorus. I also wish I had the chance to see the Red House (Britten's house museum) which had reopened on one of the last days.
Overall, I am immeasurably grateful and thankful for all the fantastic memories and new friends that this opportunity has been able to share with me. I would like to personally thank Emily Curwen and Marie Bennell for their excellent work running this program  (Congratulations, Marie, with the new child!). It was a delight to work with everyone in the orchestra, and I would especially like to give a shout-out to the people who formed my closest friends on the program: John Kruer, Calvin Cheng, Tadijana Ilicic and Gabriella Gemesi (All the best with your marriage, Gabriella!). Thank you, Jeremy Williams, for your pivotal guidance in helping me prepare the excerpts for the audition and letting me borrow Journeying Boy for such a long time, and thank you Yuen-Yum Williams too for all the delicious meals and excellent company! Thank you, Lena and Lawrence Ding who lent me the mobile phone which allowed me to take these photos and let me stay with them before and after this program (and to Lahore Spice for the tastiest curries!). And finally, I would like to thank the Britten Pears Orchestra and Aldeburgh Festival organizations for giving me the opportunity to share in such a fantastic experience. For other musicians who would like to audition for future programs, I direct you to the Britten Pears Orchestra website, where they will release the 2014 audition information later in this month of September.
Reviews
The Independent (UK) (Michael Church)
The Independent (UK) (Anna Picard)
The Guardian (UK)
The Telegraph (UK)
The Spectator (UK)
The Daily Mail (UK)
Gramophone (UK)
Thoroughly Good Blog (UK)
NY Times (USA)
Other Links
http://www.aldeburgh.co.uk/bpp
http://www.grimesonthebeachfilm.com/